The foundation of your security stack starts with our DNS Firewall — made in Canada DNS cloud security to help protect your users from malware and ransomware — and our Client Portal which allows you to monitor DNS resolver activity. We also provide real-time security incident and event notifications from CCCS (Canadian Centre for Cyber Security) for any compromised IP address under your control.
Our Security-hardened Network… included.
The Skyway West DNS Firewall
As an ISP dedicated to supporting business, we feel it's our corporate responsibility to use our Domain Name Servers to help protect our customers. Our DNS Firewall capitalizes on the internet's infrastructure to protect against malware and phishing attacks by blocking access to malicious websites before a connection is ever established. Powered by CIRA (the Canadian Internet Registry Association) and made in Canada for Canadian web traffic, DNS Firewall provides fast, accurate detection of compromised systems — improving security visibility and network protection. Advanced data science and decades of DNS management provide a strong foundation for your security stack.
The Skyway West Customer Portal
Dig deeper into your DNS traffic
Our MSP and Customer Portal is a multi-tenant permission-based portal available with any service that uses Skyway IP addresses and can be added to any internet service, regardless of provider.
As well as monitoring Upload and Download, Latency and Loss on your internet connection, DNS Resolver graphs show exactly what your users are accessing for their DNS look-ups.
We often hear "I only use trusted DNS servers". Our DNS Resolver graphs make sure this is true.
Security Incident and Event Notifications from CCCS
Uncover current and emerging threats across all IP addresses under your control with real-time threat intelligence from CCCS (The Canadian Centre for Cyber Security). Your security posture and defence depends on knowing exactly what's happening on your network. When CCS notifies us, we immediately notify you, informing you of the exact nature of the threat, its potential risk and linking you to resources to help mitigate that risk.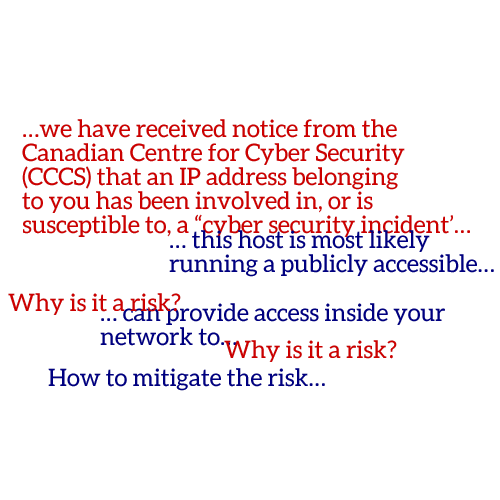 Want to know more about Skyway's security-hardened network?
You call us, or we'll call you! Call Sales at 604-482-1225, or fill out the form on the right and an Associate will get back to you.