SKYWAY SWEET UC
Unified Communications delivered from the Cloud
Skyway West has partnered with Ribbon Communications to provide a feature rich, enterprise phone system, ideal for any size company, including those with multiple locations. Ribbon (formerly Genband) is the world's largest IP Provider with over 300 million IP licenses worldwide.
Learn more at our Sweet UC Website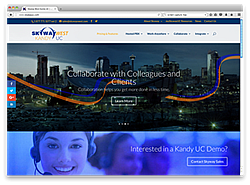 What is Skyway Sweet UC?
Voice, Video Conferencing, Collaboration — at your desk or on the go.